Designing an ecommerce website has never been easier. In fact, thanks to the rise of software-as-a-service (SaaS) ecommerce providers – like Shopify, WooCommerce, BigCommerce, and others – the once-laborious process to create an online store now involves just a few clicks of a mouse.
However, it's after your new site launches that the real challenge of attracting customers and getting your storefront noticed truly begins. According to the US Small Business Administration, more than 627,000 new businesses are started each year, which means that each month, more than 52,000 new potential competitors are out there, ready and willing to take attention away from your new store.
That's why new and existing customers must trust your brand and have the confidence to make purchases on your site. As an ecommerce business owner, you have a full arsenal of digital marketing tools designed to help you. Here are a few ecommerce homepage best practices you can use to get started.
How to Get Your Ecommerce Site Noticed: 5 Ecommerce Website Design Best Practices
If you're looking to maximize the effectiveness of your branding and boost conversions on your website, keep in mind five online store best practices for e-commerce website design throughout the site-building process.
1. Showcase Reviews on Your Ecommerce Storefront
An ecommerce site's lifeblood is its customer reviews, so be sure to collect, curate, and share, share, share those ratings on your website in a prominent place – like your storefront ecommerce home page.
Providing examples of positive reviews and favorable product ratings from previous consumers helps potential customers not only decide between product options but also feel confident about purchasing. This social proof can help to convert a browsing customer into a purchasing customer.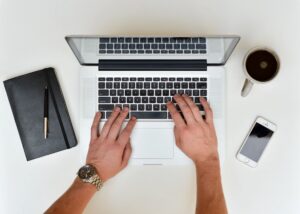 2. Create High-Quality Content
Build and strengthen customer trust by creating high-quality product page content. Ensure that every page on your website contributes to the cause. This means each page communicates clearly and precisely with fresh images, anticipates questions, and accurately and adequately describes the products for sale.
3. Provide Multiple Payment Options
Provide multiple payment options to ensure a smooth and easy checkout. Once a customer has found that perfect product, are they able to buy from you with their preferred payment method? While some customers will use a debit or credit card, others may prefer a payment service that keeps funds in escrow until the ordered item is received. Options are important!
4. Prioritize Customer Services and Quick Fulfillment
Great customer service and quick fulfillment are must-haves. Ensure that your online business includes a customer service team that can answer questions and queries quickly and clearly. Customers love good service and, in many cases, they're even willing to pay higher prices to get that top level of service.
Quick shipping matters, too. In fact, more than 70% of shoppers expect to receive their items within two days of purchase. The days of "allow 4-6 weeks for delivery" are long gone – your customers expect near-instant gratification, so it's critical you can match those expectations.
5. Simplify the Purchasing Process on All Digital Storefronts
Count the number of clicks it takes to complete a purchase. When designing your digital storefront, keep in mind that it should be easy for consumers to complete a purchase with just two clicks of the mouse (or less) to get to checkout. Any additional clicks will negatively impact conversion rates and you risk customers leaving your site or clicking away before making a purchase.
How Amazon's Buy With Prime Program Can Help With Ecommerce Site Best Practices
The above web design tips for ecommerce storefronts will help, but there's another tool you should take advantage of: Amazon's Buy with Prime service. If it's crystal clear to customers that your online store leverages the Buy with Prime service on your homepage, you'll provide new consumers with additional trust factors that can lead to conversions.
Not only does Buy with Prime provide an additional check-out option (as noted in our list above), but store owners can also leverage Prime's compelling 1-2-day shipping promise and Amazon customer service!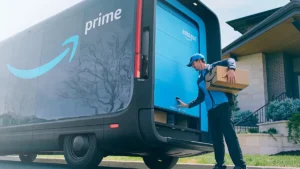 Buy with Prime also provides merchants access to Amazon Pay, another well-known and highly trusted payment option that your customers can rely on when completing a purchase.
According to Amazon's data, more than 50% of non-Prime transactions fail because consumers are unwilling to pay high shipping costs. Prime members (now more than 200 million worldwide!) also expect 1-2 day delivery service, so just by offering Buy with Prime on your site, you can differentiate your brand. And best of all, brands that already leverage Fulfillment by Amazon (FBA) can quickly add the power of Buy with Prime to their Amazon businesses.
While competition is heating up and more businesses are launched every month, savvy business owners who focus on continuous improvement in a dynamic marketplace like Amazon now have a powerful opportunity to truly unleash the power of Amazon's tools to grow their businesses off of Amazon.
Want to learn more about how to use Buy with Prime and leverage Amazon's advertising platform to grow your business? Check out our guide, "How Marketplace-Native Brands Can (and Should) Leverage Buy With Prime."